Search for Books // Busca por nombre, autor o ISBN
A Bad Deal for the Whole Galaxy (The Salvagers #2) (Paperback)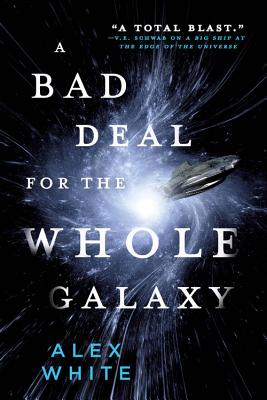 $17.99

Usually ships in 1-5 Days
Other Books in Series
This is book number 2 in the The Salvagers series.
Description
---
The greatest dangers hide the brightest treasures in this bold, planet-hopping science fiction adventure series.

The crew of the legendary Capricious are rich enough to retire in comfort for the rest of their days, but none of it matters if the galaxy is still in danger.

Nilah and Boots, the ship's newest crew-members hear the word of a mysterious cult that may have links back to an ancient and all-powerful magic. To find it, hot-headed Nilah will have to go undercover and find the source of their power without revealing her true identity. Meanwhile, Boots is forced to confront the one person she'd hoped never to see again: her old, turn-coat treasure-hunting partner.
About the Author
---
Alex White was born and raised in the American South. They take photos, write music, and spend hours on YouTube watching other people blacksmith. They value challenging and subversive writing, but they'll settle for a good time.

Alex lives in the shadow of Huntsville, Alabama's rockets with their spouse, son, two dogs and a cat named Grim. Favored pastimes include Legos and racecars. They take their whiskey neat and their espresso black.
Praise For…
---
"Fast, compelling, epic in scope, with stakes that just keep getting higher and tension that mounts and mounts to the breaking point. A Bad Deal for the Whole Galaxy is excellently paced, with engaging characters and worldbuilding that crams as much fun cool shit in as seems remotely possible. It's a deeply enjoyable ride. I recommend it and its predecessor heartily."—Locus

"White combines elements of magic and traditional space opera to create an intricate world laced with fascinating characters, expansive spaceships, and compelling settings."—Booklist

"[Fans of the TV show Firefly] will find a lot to love in this fast, funny, and wickedly smart series."—B&N Sci-Fi & Fantasy Blog

"A Big Ship at the Edge of the Universe is perfectly paced, full of intense, inventive action and refreshingly honest characters. It's the seamless hybrid of fantasy and sci-fi that you didn't know you always needed. Do you miss Firefly? Do you want it back? Well, sorry, not gonna happen. But this book is damn close."—Nicholas Eames, author of Kings of the Wyld on A Big Ship at the Edge of the Universe

"A clever fusion of magic and sci-fi makes this book a total blast. I was hooked from page one."—V. E. Schwab, author of the Shades of Magic series on A Big Ship at the Edge of the Universe

"[T]his ambitious start...combines magic and space opera to create a fast-paced adventure with charismatic characters and formidable enemies in a realized universe of greed and power."—Booklist on A Big Ship at the Edge of the Universe

"To call this book fast-paced or action-packed is underselling it. Buckle up, readers: this is a ride you won't want to get off until the end."—B&N Sci-fi & Fantasy Blog on A Big Ship at the Edge of the Universe

"Racing! Treasure and smuggling! A Big Ship at the Edge of the Universe is a gripping quest for justice among salvage and magic--I really loved it."
—Mur Lafferty, author of Six Wakes on A Big Ship at the Edge of the Universe

"White's assured debut is an entertaining throwback with some fun worldbuilding and two great lead characters."—Publishers Weekly on A Big Ship at the Edge of the Universe

"A Big Ship at the Edge of the Universe is a rollicking fun ride. I enjoyed it a lot, and I'm looking forward to the sequel, A Bad Deal for the Whole Galaxy."—Locus on A Big Ship at the Edge of the Universe