Search for Books // Busca por nombre, autor o ISBN
Choices of One: Star Wars Legends (Star Wars - Legends) (Mass Market)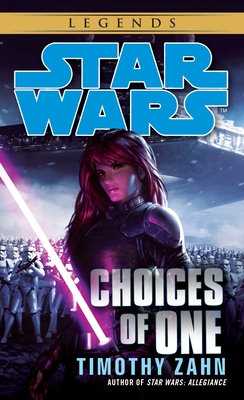 $8.99

Backordered (If needed soon, email or call to chack availability)
Description
---
NEW YORK TIMES BESTSELLER
 
From #1 New York Times bestselling author Timothy Zahn comes an exciting Star Wars adventure, set in the time between A New Hope and The Empire Strikes Back—featuring Luke Skywalker, Han Solo, and Princess Leia Organa, as well as the deadly Mara Jade.
 
Eight months after the Battle of Yavin, the Rebellion is in desperate need of a new base. So when Governor Ferrouz of Candoras Sector proposes an alliance, offering sanctuary for the Rebels in exchange for protection against a warlord intent on invasion, Luke, Leia, Han, and Chewbacca are sent to evaluate the deal. But Mara Jade, the Emperor's Hand, is also heading for Candoras, along with five renegade stormtroopers known as the Hand of Judgment. Their mission: to punish Ferrouz's treason and smash the Rebels.
 
In this treacherous game of betrayals within betrayals, a wild card is waiting to be played.
About the Author
---
Since 1978 Timothy Zahn has written nearly seventy short stories and novelettes, numerous novels, and three short fiction collections, and won the Hugo Award for best novella. Zahn is best known for his Star Wars novels: Heir to the Empire, Dark Force Rising, The Last Command, Specter of the Past, Vision of the Future, Survivor's Quest, Outbound Flight, and Allegiance, and has more than four million copies of his books in print. His most recent publications have been the science fiction Cobra series and the six-part young adult series Dragonback. Zahn has a B.S. in physics from Michigan State University, and an M.S. in physics from the University of Illinois. He lives with his family on the Oregon coast.