Search for Books // Busca por nombre, autor o ISBN
Western Echoes of the Harlem Renaissance: The Life and Writings of Anita Scott Coleman (Paperback)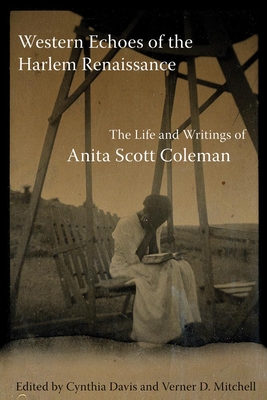 $30.73

Usually ships in 1-5 Days
Description
---
Recovers Coleman's life and literary legacy
One of the most distinctive and prolific writers of the Harlem Renaissance, Anita Scott Coleman (1890-1960) found popular and critical success in the flourishing African American press of the early twentieth century. Yet unlike many of her New York-based contemporaries, Coleman lived her life in the American West, first in New Mexico and later in California. Her work thus offers a rare view of African American life in that region.
Broader in scope than any previous anthology of Coleman's writings, this volume collects the author's finest stories, essays, and poems, including many not published since they first appeared in African American newspapers during the 1920s, '30s, and '40's. Editors Cynthia Davis and Verner D. Mitchell introduce these writings with an in-depth biographical essay that places Coleman in the context of the Harlem Renaissance movement.
The volume also features vintage family photographs, a detailed chronology, and a genealogical tree covering five generations of the Coleman family. Based on extensive research and written with the full cooperation of the Coleman family, Western Echoes of the Harlem Renaissance gives readers new understanding of this overlooked writer's life and literary accomplishments.