Search for Books // Busca por nombre, autor o ISBN
La Tienda de Mama y Papa (Hardcover)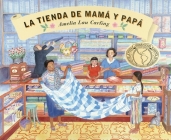 Email or call for price
Hard to Find (Unavailable)
Description
---
A fabric and thread store in downtown Guatemala City in the late fifties is the setting for this evocative picture book. Mam , Pap and six brothers and sisters live behind this magical store, with its roof terrace that provides a view of the city and the surrounding volcanoes.
The narrator's parents fled China during the Japanese invasion and, along with a few neighbors, found refuge in Central America where they set up their business. In the story, people come from all over the city and even the countryside to buy their bright fabrics, brilliant threads and other supplies for weaving and making the clothes that Native Guatemalans are famous for.
Amelia Lau Carling, who is both author and illustrator of this delightful book, depicts an almost magical kingdom where Chinese, Guatemalan and Native cultures meet in a harmonious and enchanted space - where children can play and learn about all the different peoples who make Guatemala City alive. The story is especially poignant in light of subsequent events in Guatemala's tragic history.