Search for Books // Busca por nombre, autor o ISBN
Into the Sublime (Hardcover)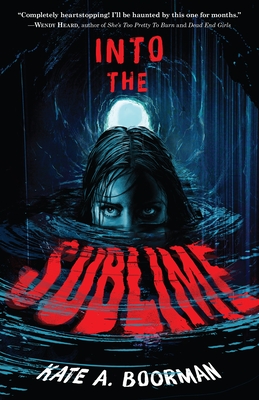 $18.99

Usually ships in 1-5 Days
Description
---
"Gripping and breathless, Into the Sublime is equal parts terrifying, claustrophobic, psychological, and cunning." —Wendy Heard, author of She's Too Pretty to Burn and Dead End Girls

A new YA psychological thriller from Kate A. Boorman, author of What We Buried, about four teenage girls who descend into a dangerous underground cave system in search of a lake of local legend, said to reveal your deepest fears.

When the cops arrive, only a few things are clear:
- Four girls entered a dangerous cave.
- Three of them came out alive.
- Two of them were rushed to the hospital.
- And one is soaked in blood and ready to talk.

Amelie Desmarais' story begins believably enough: Four girls from a now-defunct thrill-seeking group planned an epic adventure to find a lake that Colorado locals call "The Sublime." Legend has it that the lake has the power to change things for those who risk—and survive—its cavernous depths. They each had their reasons for going. For Amelie, it was a promise kept to her beloved cousin, who recently suffered a tragic accident during one of the group's dares.

But as her account unwinds, and the girls' personalities and motives are drawn, things get complicated. Amelie is hardly the thrill-seeking type, and it appears she's not the only one with the ability to deceive. Worse yet, Amelie is covered in someone's blood, but whose exactly? And where's the fourth girl?

Is Amelie spinning a tale to cover her guilt? Or was something inexplicable waiting for the girls down there? Amelie's the only one with answers, and she's insisting on an explanation that is more horror-fantasy than reality. Maybe the truth lies somewhere in between?

After all, strange things inhabit dark places. And sometimes we bring the dark with us.
About the Author
---
Kate A. Boorman is an award-winning writer from the Canadian prairies. She was born in Nepal, grew up in the small town of Rimbey, Alberta, and now lives in Edmonton, where she wrangles her family and schemes up travel to faraway lands. Kate has a MA in Dramatic Critical Theory and has held an odd assortment of jobs, from accordion accompanist to qualitative research associate. She is the author of What We Buried and the Winterkill trilogy.
Praise For…
---
"This disorienting, claustrophobic, and genuinely frightening thriller follows the four girls as they descend into the darkness. With well-developed, sympathetic characters, a taut plot, and an unreliable narrator, the novel straddles the line between mystical and psychological horror to keep readers guessing to the end . . . A sublimely scary thriller." —Kirkus Reviews, starred review

"Horror fans will immediately recognize nods to contemporary classics of the genre, including As Above, So Below and The Blair Witch Project, while Amelie's unreliability as a narrator puts the reader in the implicit role of the detective. This intriguing blend of paranormal lore and psychodrama will warrant a second read from genre-savvy readers who want to know if they missed clues or were misled down a rabbit hole." —The Bulletin of the Center for Children's Books, starred review

"Boorman's (What We Buried) labyrinthine prose and narrative structure, skillfully fleshed-out characters, and fast-paced plot make for a terrifying and enticing summer read." —Publishers Weekly

"Claustrophobic and slippery with surprises . . . In a word, Into the Sublime is strangely therapeutic (whoops, two words.) It pushes us to expose hidden wounds so that we may take accountability and evolve into a stronger version of ourselves." —Fangoria

"Anyone looking for a claustrophobic and unsettling story will find the perfect match with Into The Sublime, a self-aware YA thriller . . . Kate A. Boorman cleverly creates an ominous, disorienting atmosphere that creeps the audience out by making our minds run wild with speculation about what dangers await the main characters . . . will linger in your mind for a while to come." —The Nerd Daily

"Heart-pounding action sequences keep the pages turning quickly and the vivid setting immerses readers inside the damp darkness believed to house paranormal monsters. . . Fans of atmospheric and psychological survival novels will race to the end of this horrific nonlinear adventure." —School Library Journal

"Boorman...keeps the tension high as the POV bounces between Amelie and the experiences of the officers investigating the aftermath of the girls' expedition. Rather than an action story, this has a psychological conceit, exploring the trauma-filled pasts of the girls venturing underground. A well-constructed thriller that explores guilt, identity, and authenticity." —Booklist


Praise for What We Buried:

Cosmopolitan's 11 Best Young Adult Books You'll Be Obsessed With in 2019
Seventeen's 10 Best YA Books of 2019 (So Far)

"Vexing, poignant, and thought-provoking." —Kirkus

"Perceptive." —Publishers Weekly

"A disintegrating distinction between life and death is a known marker of mental meltdown, but also of spirits haunting the scene of a crime. What We Buried skillfully alternates the two sides every story has, unafraid of clarity with one foot in bafflement."—The Center for Fiction

"Keep[s] readers on their toes all the way up to the intense ending, but the emotional reconciliation, which is clearly what's been at stake here all along, enables a sense of just deserts for all involved." —The Bulletin of the Center for Children's Books

"The key to a truly successful mystery/detective story is the author's clever use of misdirection, and in What We Buried, Boorman succeeds masterfully. . .[A] great read, one that will definitely play with readers' minds." —CM Magazine