Search for Books // Busca por nombre, autor o ISBN
God is Change: Religious Practices and Ideologies in the Works of Octavia Butler (Paperback)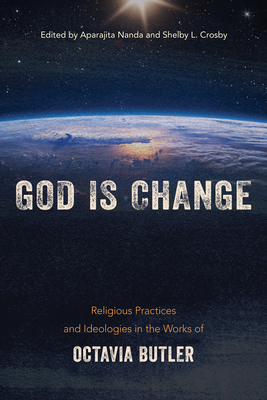 $40.19

Usually ships in 1-5 Days
Description
---
Throughout her work, Octavia E. Butler explored, critiqued, and created religious ideology. Her prescient thoughts on the synergy between politics and religion in America are evident in her 1993 dystopian novel, Parable of the Sower, and its 1998 sequel, Parable of the Talents. They explored, respectively, what happens during a divisive "cultural war" that unjustly impacts the disenfranchised, and the rise of a fascistic president, allied with white fundamentalist Christianity, who chants the slogan, "Make America Great Again."
But religion, for Butler, need not be a restricting force. The editors of and contributors to God Is Change heighten our appreciation for the range and depth of Butler's thinking about spirituality and religion, as well as how Butler's work—especially the Parable and Xenogenesis series—offers resources for healing and community building. Essays consider the role of spirituality in Butler's canon and the themes of confronting trauma as well as experiencing transformation and freedom. God Is Change meditates on alternate religious possibilities that open different political and cultural futures to illustrate humanity's ability to endure change and thrive.
About the Author
---
Aparajita Nanda, recipient of a Visiting Associate Professorship at the University of California, Berkeley, now teaches at the University of California, Berkeley. She is the editor of  Ethnic Literatures and Transnationalism: Critical Imaginaries for a Global Age and Black California: A Literary Anthology; and co-editor of The Strangled Cry: The Communication and Experience of Trauma and Romancing the Strange: The Fiction of Kunal Basu.

Shelby L. Crosby is an Associate Professor in the Department of English at the University of Memphis.