Search for Books // Busca por nombre, autor o ISBN
Black Like Us: A Century of Lesbian, Gay, and Bisexual African American Fiction (Paperback)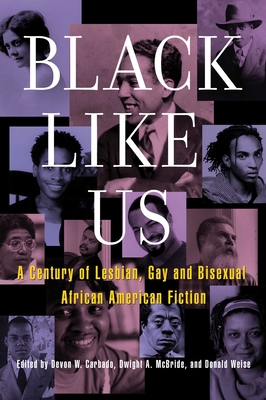 $28.95

Usually ships in 1-5 Days
(This book cannot be returned.)
Description
---
Winner of the 2003 Lambda Literary Award for Fiction Anthology

Showcasing the work of literary giants like Langston Hughes, James Baldwin, Audre Lorde, Alice Walker, and writers whom readers may be surprised to learn were "in the life," Black Like Us is the most comprehensive collection of fiction by African American lesbian, gay, and bisexual writers ever published. From the Harlem Renaissance to the Great Migration of the Depression era, from the postwar civil rights, feminist, and gay liberation movements, to the unabashedly complex sexual explorations of the present day, Black Like Us accomplishes a sweeping survey of 20th century literature.
About the Author
---
Devon W. Carbado is a professor of law and African American studies at UCLA. He is the editor of "Black Men on Race, Gender and Sexuality" and coedtior of the Lambda Literary Award finalist "Black Like Us: A Century of Lesbian, Gay, and Bisexual African American Fiction," which was also nominated for a 2003 ALA Award. He lives in Los Angeles.Donald Weise is a coeditor of Black Like Us and The Huey P. Newton Reader. He lives in New York City.Barack Obama was elected President of the United States on November 4, 2008. He is the author of the New York Times bestsellers Dreams from My Father and The Audacity of Hope: Thoughts on Reclaiming the American Dream.Barney Frank served as a member of the U.S. House of Representatives from Massachusetts from 1981 to 2013, and is the former chairman of the House of Financial Services Committee. He is considered one of the most prominent gay politicians of the United States, and has played a key role in historical legislation, from LGBT civil rights to the landmark Dodd-Frank Wall Street Reform and Consumer Protection Act. He lives in Boston, MA.
Praise For…
---
"This rich anthology will take your breath away." --The Advocate
"Skillfully unfolds the black queer voice." --Out Magazine
"This enormously powerful and expansive book covers the eras from 1900 to 2000 in dozens of entries that showcase writers who are household names, and others who aren't, as America experienced sea changes around gender, race, and sexual orientation." --The Urban News
"Black Like Us unlocks the closet of black lesbian, gay, and bisexual writing." --Keith Boykin, author of One More River to Cross
"A phenomenal pioneering anthology." --Ann Allen Shockley, author of Loving Her
"Black Like Us thoughtfully shapes and lovingly nurtures a literary tradition that has been marginalized for too long. An absorbing and enlightening encounter with compelling American literature." --John D'Emilio, author of Lost Prophet: The Life and Times of Bayard Rustin
"A vital achievement." -- George Chauncey, author of Gay New York
"An exceptionally fine read and a rich resource for all of us." --Robert L. Allen, co-editor of Brotherman: The Odyssey of Black Men in America
"Black Like Us refuses to separate the histories and imaginations of Black America and Queer America. In so doing, it becomes a model for a more insightful and useful cultural discussion, one that has importance for all of American culture." --Joan Nestle, co-founder of the Lesbian Herstory Archives, author of A Restricted Country and A Fragile Union
— Reviews