Search for Books // Busca por nombre, autor o ISBN
Yes! We Are Latinos: Poems and Prose About the Latino Experience (Paperback)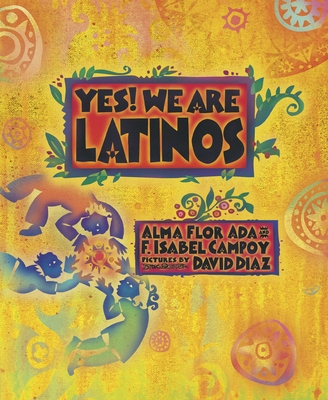 $10.95

Usually ships in 1-5 Days
Description
---
Juanita lives in New York and is Mexican. Felipe lives in Chicago and is Panamanian, Venezuelan, and black. Michiko lives in Los Angeles and is Peruvian and Japanese. Each of them is Latino.

Thirteen young Latinos and Latinas living in America are introduced in this book celebrating the rich diversity of the Latino and Latina experience in the United States. Free-verse fictional narratives from the perspective of each youth provide specific stories and circumstances for the reader to better understand the Latino people's quest for identity. Each profile is followed by nonfiction prose that further clarifies the character's background and history, touching upon important events in the history of the Latino American people, such as the Spanish Civil War, immigration to the US, and the internment of Latinos with Japanese ancestry during World War II.

Alma Flor Ada and F. Isabel Campoy's informational yet heartwarming text provides a resource for young Latino readers to see themselves, while also encouraging non-Latino children to understand the breadth and depth of the contributions made by Latinos in the US.

Caldecott Medalist David Diaz's hand-cut illustrations are bold and striking, perfectly complementing the vibrant stories in the book.

YES! WE ARE LATINOS stands alone in its presentation of the broad spectrum of Latino culture and will appeal to readers of fiction and nonfiction.
About the Author
---
Alma Flor Ada is the celebrated author of hundreds of books for young readers and adults, including UNDER THE ROYAL PALMS (Atheneum, 1998) a Pura Belpré Award winner and TALES OUR ABUELITAS TOLD: A HISPANIC FOLKTALE COLLECTION with F. Isabel Campoy (Atheneum, 2006). She lives in the San Francisco Bay area in California.

F. Isabel Campoy is the author of more than one hundred books of poetry, art, biography, and folklore for children incluing ROSA RAPOSA and ¡PÍO PEEP!, co-authored by Alma Flor Ada. She lives in the San Francisco Bay area.

David Diaz is the acclaimed illustrator for dozens of books for young readers including his debut picture book Smoky Night, which was awarded the Caldecott Medal, and Martín de Porres: The Rose in the Desert, winner of the Pura Belpré Illustrator Award. He lives in Carlsbad, California.
Praise For…
---
From Booklist
This book celebrates the amazing and underappreciated diversity of the Latino community and makes great strides toward ameliorating one-dimensional stereotypes. Through 12 narrative poems, the authors explore the experiences of fictional men and women; Christians and Jews; immigrants, indigenous people, and second-generation Americans; professionals and farmers; all of whom identify themselves as Latinos. Each poem is followed by brief factual explanation of the major themes within, such as the Spanish Civil War, Asian influences in Latin America, and Cuba's relationship with the U.S.
Black-and-white abstract art by Caldecott winner Díaz elevates each individual's story by illustrating major themes. While the authors include a bibliography of source material, they also acknowledge a lengthy list of people who provided inspiration for the topics discussed in the book. Perhaps it is the use of these real-life figures that gives the fictional vignettes such an air of realism and relatability for both Latino and non-Latino readers alike. Grades 3-6. –Erin Anderson

Kirkus Review
A poetic celebration of the diversity found among Latinos.
Each poem in this collection of 13 vignettes is a glimpse into the life of a Latino child living in the United States. Ada and Campoy do a commendable job of creating a nuanced, realistic reflection of the many-faceted Latino experience, including characters from a variety of ethnic, religious, language and racial backgrounds. […] An informational piece follows each poem that […] expands on the social and historical context with honesty and depth. […] Díaz's signature black-and-white cut-paper art decorates the collection and is especially noteworthy in its reflection of the themes in the informational pieces.[…] a collection both interesting and educational, offering Latino children positive representations of themselves and teaching non-Latino children about the richness and breadth of the Latino experience.