Search for Books // Busca por nombre, autor o ISBN
It's Life as I See it: Black Cartoonists in Chicago, 1940 - 1980 (Paperback)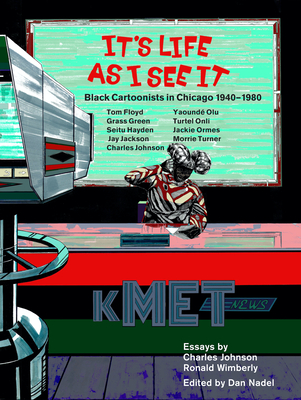 $27.45
Email or call for price
Description
---
Originally published by Chicago's Black press, long neglected by mainstream publishing, and now included in a Museum of Contemporary Art Chicago exhibition, these comics showcase some of the finest Black cartoonists.

Between the 1940s and 1980s, Chicago's Black press—from The Chicago Defender to the Negro Digest to self-published pamphlets—was home to some of the best cartoonists in America. Kept out of the pages of white-owned newspapers, Black cartoonists found space to address the joys, the horrors, and the everyday realities of Black life in America. From Jay Jackson's anti-racist time travel adventure serial Bungleton Green, to Morrie Turner's radical mixed-race strip Dinky Fellas, to the Afrofuturist comics of Yaoundé Olu and Turtel Onli, to National Book Award–winning novelist Charles Johnson's blistering and deeply funny gag cartoons, this is work that has for far too long been excluded and overlooked. Also featuring the work of Tom Floyd, Seitu Hayden, Jackie Ormes, and Grass Green, this anthology accompanies the Museum of Contemporary Art Chicago's exhibition Chicago Comics: 1960 to Now, and is an essential addition to the history of American comics.

The book's cover is designed by Kerry James Marshall.

Published in conjunction with the Museum of Contemporary Art Chicago, on the occasion of Chicago Comics: 1960s to Now, June 19–October 3, 2021. Curated by Dan Nadel.
About the Author
---
Dan Nadel is Curator at Large of the Jan Shrem and Maria Manetti Shrem Museum of Art, UC Davis. He is the author and editor of several books, including Art Out of Time: Unknown Comic Visionaries, 1900–1969; Gary Panter; and New York Review Comics's Return to Romance: The Strange Love Stories of Ogden Whitney (with Frank Santoro). He lives in Brooklyn, New York.

Charles Johnson is a novelist, essayist, literary scholar, philosopher, cartoonist, screenwriter, and professor emeritus at the University of Washington in Seattle. A MacArthur fellow, he won the National Book Award for his novel Middle Passage in 1990.

Ronald Wimberly was born in Washington, D.C. His books include Prince of Cats. He is the editor of the art newspaper LAAB.

Kerry James Marshall is a Chicago-based artist best known for his portraits of Black figures. The Museum of Contemporary Art Chicago hosted a retrospective exhibition of his work, Kerry James Marshall: Mastry, in 2016. He was included on the Time 100 list in 2017.
Praise For…
---
"Charles Johnson's opening essay alone is worth the price of admission . . . It's Life as I See It is an unusually rich collection, with work that cuts across formats, from traditional newspaper strips to independent or self-published underground and art comics like Turtel Onli's dynamic abstract story lines in his own Future Funk periodical. Some figures are better known, like the pioneering Jackie Ormes while others, like Onli, are obscure." —Hilary Chute, The New York Times Book Review

"An important and groundbreaking collection, bringing together important voices and biographical context illustrating four decades of Black perspectives on everything from daily life to the Civil Rights Movement. Some of the strips will make your jaw drop with the way they bring to life a particular period in history, some of them will make you shake your head with the poignant realization of how little has changed, and some of them will just make you laugh." —Eve L. Ewing, sociologist and Marvel Comics writer

"Nadel's lush, profound and well-researched volume sheds well-deserved light on some of the most talented, tenacious, and sadly unsung heroes of modern comics." —Emil Ferris, author of My Favorite Thing is Monsters

"This zesty anthology fills a gaping hole in the history of American cartooning by portraying nine seminal Black cartoonists and presenting . . . their creative, incisive, and socially eviscerating cartoons and comic strips. . . . [It's Life as I See It is] an invaluable treasury of dynamic comic works of satire, protest, solidarity, and liberation." —Donna Seaman, Booklist

"The existence of this anthology—regardless of the violence that surrounds so much of the work, and, in a way, because of that violence—is a gift. It is part of the history of Black creativity and struggle through art. . . A powerful work." —Zito Madu, The Nation

"The comics in this book are fantastic: innovative, incisive, layered, and—most importantly—blazingly funny. . . Though many of these artists were ignored by the mainstream, they created their own mainstream, a thriving space in which their Blackness was a starting point for rigorous engagement with American society." —Tope Folarin, Vulture

"[It's Life as I See It is] a landmark book and one that details the untold stories of the Black illustrators who shaped the world of cartooning." —Ayla Angelos, It's Nice That

"A fascinating collection of comics. . . . Dig deep and you'll be absorbed." —Henry Chamberlain, Comics Grinder

"Cartoonists for the Defender (and Jet, and Ebony, and Negro Digest) favored sparser compositions, a comedy of isolation rather than clutter. Even when the images are cluttered, the eye is directed to one area, usually wherever the Black figure stands. When you're the only Black person in one of these panels, which is pretty often, you triumph by owning your one-of-a-kindness, standing out in style." —Jackson Arn, Art in America

"Immersive. . . [It's Life As I See It] showcases a rich legacy." —Publishers Weekly