Search for Books // Busca por nombre, autor o ISBN
The Roll-Away Pumpkin (Paperback)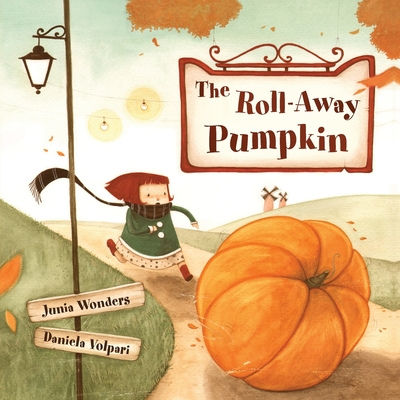 $16.19

Usually ships in 1-5 Days
(This book cannot be returned.)
Description
---
A wonderful & whimsical autumn tale
"Marla Little's pumpkin is rolling away Can she catch it before it's gone forever? Readers both young and young at heart will delight in this lovely, whimsical tale." -BookBub
Multi-award-winning author and illustrator team delight young readers with a rollicking sequencing story.
When a large pumpkin gets away from its young owner, Marla, an amusing and lighthearted pursuit ensues. As it rolls down country roads, through a farm's haystacks, past a milkman and his cart, over a stone bridge, through a city's bistro, and past a butcher shop, readers will enjoy as each subsequent person joins in the young girl's chase after the runaway, rollaway pumpkin, making for a silly procession that gets even sillier when the group encounters a marching parade. A pleasing ending has the ever-growing group enjoying a cauldron of pumpkin soup.
With stunning illustrations in beautiful muted earthy tones, many small details make each spread a delight in poring over-a dog with little sausages in its mouth, street signs that point "this way" and "that way", a tiny windmill in the distance, leaves fluttering down on the country road, fresh baguettes stacked up in the baker's wagon. A wonderfully lilting text is beautifully typeset in a fun and whimsical way, curving along the streets and alleys. A repeated refrain throughout the story adds a fun opportunity for young readers to chant along.
A short and simple story, The Roll-Away Pumpkin is a perfect read-aloud for families and educators of young children, while its highlighted keywords, repetitive language, and predictive nature make it ideal for beginner readers.
Praise for The Roll-Away Pumpkin:
"This book combines patterns with some classic onomatopoeia to create a very silly story that your kids are sure to enjoy. And it's perfect for the whole season While a lot of fall books stick strictly to Halloween, this includes the sights and sounds of fall itself-which we love best of all." -Book Nook NYC
"Being a seasonal book, it is safe to say this won't likely get worn out, and may even become a seasonal tradition - likely in my house to say the least A winner for sure " -ErmaReads
"It makes a wonderful bedtime story, one that's perfect for these chilly autumn nights." -A Southern Girl's Bookshelf